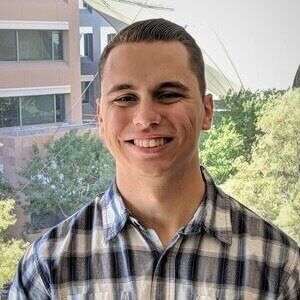 McCady Findley
Sustainability Manager
McCady earned a Master's in Sustainable Solutions degree from Arizona State University's School of Sustainability. During his time at ASU, he worked with clients such as Arizona Public Service (APS) and the Pac-12 Conference. He also earned a Bachelor's in Environmental Science and Technology degree from Colorado Mesa University. As a Sustainability Manager, McCady supports our clients by forming strategies to reduce their energy usage by monitoring energy data and delivering the highest quality solution to each client's specific needs.
Before working with Fusebox, McCady worked for APS in the Customer Technology department, where he reviewed residential solar applications for customers that leased or purchased solar and battery storage systems. This position required him to be knowledgeable of APS interconnection requirements, utility bills, and rate plans to effectively communicate with customers.
McCady was born in Atlanta, Georgia, but relocated to Highlands Ranch, Colorado in 2005. After 11 years in Colorado, he moved to Tempe, Arizona to pursue his master's at Arizona State University. McCady is a former student-athlete, who ran track from middle school through college at Colorado Mesa. He enjoys running, reading, and watching the Denver Broncos in his free time.